Did you realize that next year the Summer Olympics will be held in Tokyo? Yes! The country is gearing up for it. It's a little controversial here, though because some people feel that Japan is spending money on the Olympics, but hasn't done enough to improve the conditions along the coast of Tohoku—people are still affected by the aftermath of the quake/tsunami. And also, there's the nuclear plant situation in my own prefecture.
But anyway, before getting to the main part of this post, I'd like to tell you about the route of the torch. During every Olympics, a torch of fire is brought from Greece to the country hosting the games. Runners/walks carry it by hand along a route, handing it off to each other–this usually takes several months. At the very end of the relay, a famous person (usually an athlete from the host country) takes the torch on its very last leg and then lights the Olympic in the arena. That fire–from Greece–will burn throughout the duration of the Olympic Games. (About two weeks.)
https://tokyo2020.org/en/special/torch/olympic/schedule/
Above, I've posted a link to the schedule for the torch. First it comes from Greece, then it is on display in Ishinomaki City. Ishinomaki City was HEAVILY hit by the tsunami. It's only there for one day. Too short! Can't they extend the time it's on display?
On March 24, it will also be on display super close to where I live–the east exit of Fukushima Station. Unless something happens, I'm sure I will go there and take a peek (and a photo.)
A couple days later, the relay of the torch will officially begin. No more cushy plane travel! No more fun locomotive rides! From now on, that torch will be hoofing it. The torch relay starts at J-Village in eastern Fukushima Prefecture AND THIS IS WHERE MY POST BEGINS.
---
J-Village was the training camp for the Japan national soccer league. So the J-Village was a Very Big Deal.
Unfortunately, J-Village straddled Hirono and Naraha, an area very close to the power plant which melted down. Thus, being in the Exclusion Zone, J-Village was unusable as a sports facility after the meltdowns occured.
Here's a map of the areas with high radiation (Exclusion Zone) back in 2011. (from this link: https://www.pref.fukushima.lg.jp/site/portal-english/en03-08.html )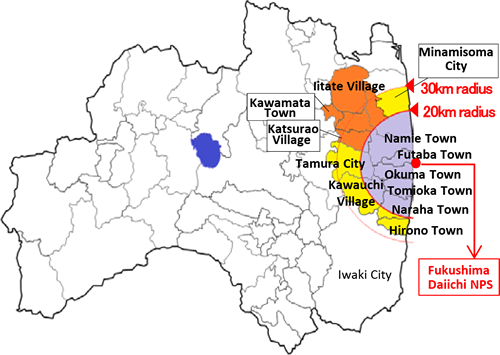 .
It's been eight years since the meltdowns and the levels of radiation have decreased during that time period. In some areas, the level has decreased to amounts that are considered safe. By "safe," I mean the same level found in other parts of the world. thus, The powers-that-be are reopening areas of the Exclusion Zone.
(This is good news for the residents who DO want to return to their home.)
From that same link, here is the Exclusion Zone as of April, 2017: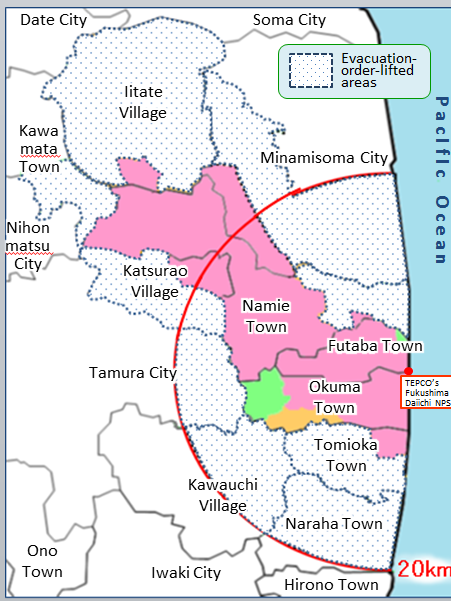 You can see the boundaries of the Exclusion Zone have indeed changed from 2011 to 2017.
***************
So anyway, after the meltdowns in March of 2011, J-Village was (temporarily) transformed into a base for TEPCO (the Tokyo owner of the nuclear power plant.) Here is an article from 2011 about this: https://blogs.wsj.com/japanrealtime/2011/11/11/j-village-the-view-from-inside/ (Remember, this article is old!) Here a different article from 2014: https://www.telegraph.co.uk/news/worldnews/asia/japan/10829609/Fukushimas-nuclear-workers-base-to-reopen-as-2020-Olympics-training-facility.html
In recent years, the J-Village was cleaned up so that it could be used again for recreational purposes. Early this year, 2019 it was reopened to be used again as a sports facility. It is no longer in the Exclusion Zone, and that means anybody can go there. The radiation levels of J-Village are now considered (by the government) to be safe. I've posted links to a couple articles about the reopening of J-Village.
http://www.asahi.com/ajw/articles/AJ201904200045.html
https://english.kyodonews.net/news/2019/04/1c02bbf74a48-j-village-national-soccer-training-facility-fully-reopens.html
So anyway, the torch relay will begin at J-Village.
Is that area safe?
Well, I went to safecast.org https://blog.safecast.org/ to look at the current radiation in Hirono (home of J-Village.)
Here are the current results (morning of June 10, 2019)
Hirono (J-Village's town has a radiation level of .13 or .11 microsieverts per hour. (I think that safecast uses two different radiation detectors in the same location. That's why there are two different results.)
Here is Tomioka Town's reading (a little north of the J-Village, and closer to Daiichi Nuclear Power plant): .33 or .38 microsieverts per hour.
In comparison—-
I picked a location outside of Japan at random— Honolulu, Hawaii has .09 microsieverts per hour. You can look at other places on the Safecast map.
From Canada's nuclear safety guidelines http://www.nuclearsafety.gc.ca/eng/resources/fact-sheets/natural-background-radiation.cfm :
"The total worldwide average effective dose from natural radiation is approximately 2.4 millisieverts per year; in Canada, it is 1.8 millisieverts per year."
I'm changing that to the equivalent in microsieverts per hour, so it will mesh with all the other numbers I've given in this post:  "The total worldwide average effective dose from natural radiation is approximately .273 microsieverts per hour; in Canada, it is .205 microsieverts per hour."
So based on those numbers from Canada, the J-Village seems safe to me. I'm just looking at the numbers, though, strictly from a mathematical point of view.